Years of Dust: The Story of the Dust Bowl
Spiral-Bound | October 11, 2012
Albert Marrin
Rebinding by Spiralverse™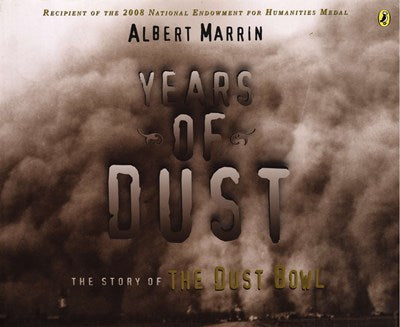 A compelling look at a challenging and important era in our nation's history
In the 1930's, great rolling walls of dust swept across the Great Plains. The storms buried crops, blinded animals, and suffocated children. It was a catastrophe that would change the course of American history as people struggled to survive in this hostile environment, or took the the roads as Dust Bowl refugees.

Here, in riveting, accessible prose, and illustrated with moving historical quotations and photographs, acclaimed historian Albert Marrin explains the causes behind the disaster and investigates the Dust Bowl's imact on the land and the people. Both a tale of natural destruction and a tribute to those who refused to give up, this is a beautiful exploration of an important time in our country's past.
Albert Marrin (www.albertmarrin.com) is the acclained author of more than forty award-winning nonfiction books for young people. Among his many honors are the James Madison Book Award for Lifetime Achievement and and Endowment for the Humanities Medal. He lives in Riverdale, New York and Miami, Florida.