Lift Up Thy Voice: The Sarah and Angelina Grimké Family's Journey from Slaveholders to Civil Rights Leaders
Spiral-Bound | December 31, 2002
Mark Perry
Rebinding by Spiralverse™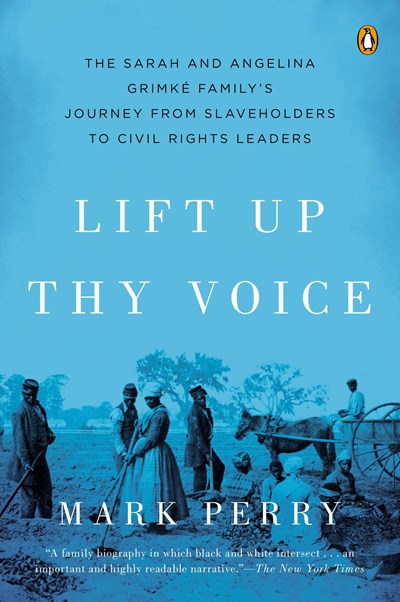 In the late 1820s Sarah and Angelina Grimké traded their elite position as daughters of a prominent white slaveholding family in Charleston, South Carolina, for a life dedicated to abolitionism and advocacy of women's rights in the North. After the Civil War, discovering that their late brother had had children with one of his slaves, the Grimké sisters helped to educate their nephews and gave them the means to start a new life in postbellum America. The nephews, Archibald and Francis, went on to become well-known African American activists in the burgeoning civil rights movement and the founding of the NAACP. Spanning 150 eventful years, this is an inspiring tale of a remarkable family that transformed itself and America.
*
"A finely rendered portrait of two Southern abolitionist and civil-rights activists, and of the time in which they lived…. More than reporting the details of the Grimké sisters' lives and deeds, interesting enough as they are, Perry offers a learned survey of American social history in the mid-19th century, providing a vivid account of the religious revival called the Second Great Awakening and connecting the quest of their contemporaries for earthly salvation to the sisters' thwarted determination to lead lives of religious devotion…Engaging, intelligent, and likely to be of much interest to general readers, as well as of value in courses of American history, women's studies, and African-American studies.
—Kirkus, starred review
"The Grimkés' personal struggles (the sisters' search for religious fulfillment, the brothers' pursuit of political satisfaction) and their published and unpublished works… hold the center to make this book eminently readable."—Publishers Weekly
"We see in [the Grimkés'] troubles our own; in their triumphs our hope; and in their history, the history of our nation."—LIFT UP THY VOICE, Prologue
Mark Perry's books include
Conceived in Liberty
, a main selection of the History Book Club. An award-winning writer, he has written on history, the Middle East conflict, and American foreign policy for numerous magazines and newspapers.
PRAISE FOR MARK PERRY:
"Mark Perry…has made their dual biography the basis for an ambitious book, a history of the North and South from before the war to the end of Reconstruction. That he succeeds so well is remarkable."
- The New York Times Book Review
"A thoughtful, moving, and wonderfully readable account of two valiant men, the war that brought them together, and the ideologies that ultimately kept them apart."
- Cleveland Plain Dealer