The Diary of a Madman, the Government Inspector, and Selected Stories
Spiral-Bound | April 25, 2006
Nikolay Gogol, Robert Maguire (Introduction by), Ronald Wilks (Translated by), Ronald Wilks (Translated by)
Rebinding by Spiralverse™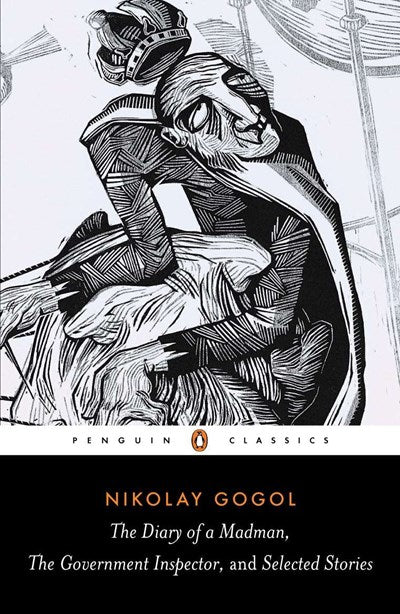 Author, dramatist and satirist, Nikolai Gogol deeply influenced later Russian literature with his powerful depictions of a society dominated by petty bureaucracy and base corruption. This volume includes both his most admired short fiction and his most famous drama. A biting and frequently hilarious political satire, "The Government Inspector" has been popular since its first performance and was regarded by Nabokov as the greatest Russian play every written. The stories gathered here, meanwhile, range from comic to tragic and describe the isolated lives of low-ranking clerks, lunatics and swindlers. They include "Diary of a Madman," an amusing but disturbing exploration of insanity; Nevsky Prospect, a depiction of an artist besotted with a prostitute; and "The Overcoat," a moving consideration of poverty that powerfully influenced Dostoevsky and later Russian literature.

For more than seventy years, Penguin has been the leading publisher of classic literature in the English-speaking world. With more than 1,700 titles, Penguin Classics represents a global bookshelf of the best works throughout history and across genres and disciplines. Readers trust the series to provide authoritative texts enhanced by introductions and notes by distinguished scholars and contemporary authors, as well as up-to-date translations by award-winning translators.
Nikolai Vasilevich Gogol was born in 1809; his family were small gentry of Ukrainian cossack extraction, and his father was the author of a number of plays based on Ukrainian popular tales. He attended school in Nézhin and gained a reputation for his theatrical abilities. He went to St Petersburg in 1829 and with the help of a friend gained a post in one of the government ministries. Gogol was introduced to Zhukovsky, the romantic poet, and to Pushkin, and with the publication of Evenings on a Farm near Dikanka (1831) he had an entrée to all the leading literary salons. He even managed for a short period to be Professor of History at the University of St. Petersburg (1834-5).

Diary of a Madman and The Story of the Quarrel between Ivan Ivanovich and Ivan Nikiforovich appeared in 1934, The Nose in 1836, and The Overcoat in 1842. Gogol also wrote the play The Inspector (1836), Dead Souls (1842), and several moralizing essays defending the Tsarist regime, to the horror of his liberal and radical friends. He lived a great deal abroad, mostly in Rome, and in his last years became increasingly prey to religious mania and despair. He made a pilgrimage to Jerusalem in 1848, but was bitterly disappointed in the lack of feeling that the journey kindled. He returned to Russia and fell under the influence of a spiritual director who told him to destroy his writings as they were sinful. He burned the second part of Dead Souls, and died in 1852 after subjecting himself to a severe regime of fasting.

Ronald Wilks studied Russian language and literature at Trinity College, Cambridge, and later Russian literature at London University, where he received his Ph.D. in 1972. He has also translated 'The Little Demon' by Sologub and, for Penguin Classics, My Childhood, My Apprenticeship, and My Universities by Gorky, The Golovlyov Family by Saltykov-Shchedrin and four volumes of stories by Chekhov: The Kiss and Other Stories, The Duel and Other Stories, The Party and Other Stories, and The Fiancée and Other Stories.